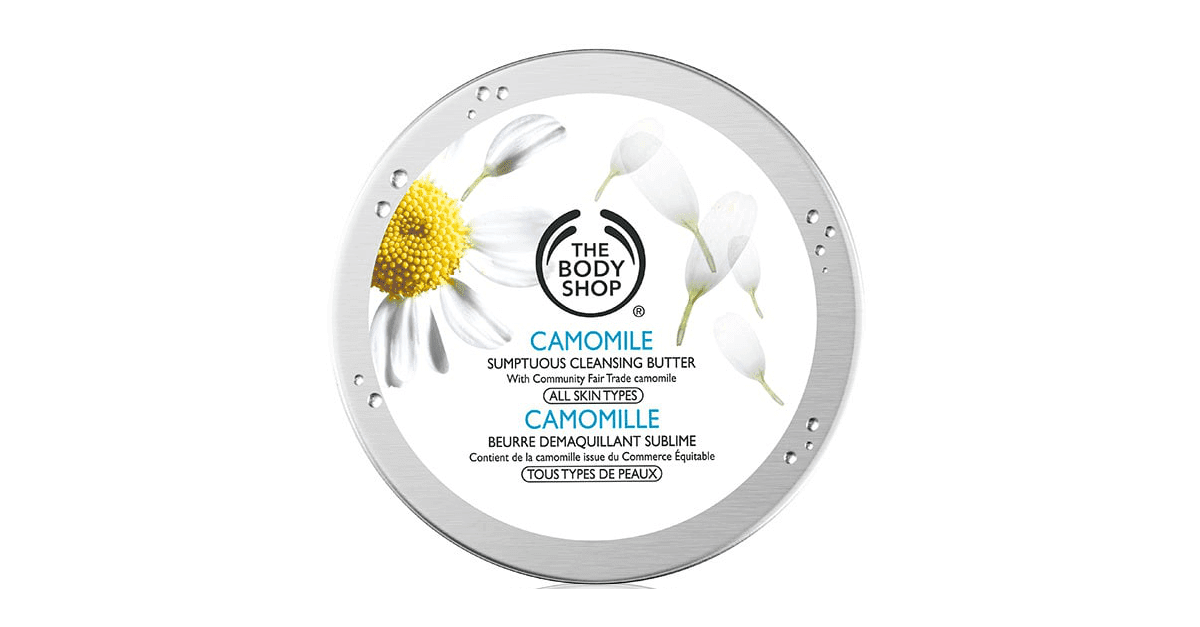 Es ist schon einige Zeit her, dass ich bei THE BODY SHOP eingekauft habe. Eines der Produkte, dass mich besonders interessiert hat, war die Kamille Reinigungsbutter. Sie wird einfach auf die trockene Haut aufgetragen und soll dann Make Up und tiefsitzende Verschmutzungen lösen, die man dann einfach in einem Waschlappen abnimmt oder mit Wasser abwäscht.
Die Butter ist die erste Reinigungsbutter, die auch eine wirkliche Butter-Konsistenz hat. In der Tube ist die Butter komplett fest und wird stückchenweise heraus gekratzt, bis man die gewünschte Menge in der Hand hält. Der Duft ist wahnsinnig angenehm und sehr erfrischend nach Kamille, was mir extrem gut gefiel.
In der Hand wird die Butter durch die körpereigene Wärme langsam flüssig und ist zur Anwendung bereit. Während man das Make Up noch trägt, wird es einfach aufgetragen und ordentlich, etwa 1-2 Minuten gründlich in die Haut eingearbeitet, wie bei einem ölbasiertem Reiniger.
Im Anschluss kann man das gelöste Make Up extrem einfach von der Haut abnehmen. Da ich besonders große Mengen an Make Up trage, habe ich das Gesicht zunächst mit einem feuchten Waschlappen von der farbigen Grütze befreit und im Anschluss mit einem schäumenden Reiniger noch einmal gründlich gereinigt.
Die Butter eignet sich jedoch auch zur alleinigen Reinigung. Wer weniger oder kein Make Up trägt, kann die Reinigungsbutter locker ohne Verstopfungen der Poren alleine anwenden und im Anschluss das Gesicht einfach nur noch pflegen; nur bei mir und meinen Mengen würde das schlichtweg nicht ausreichen. Empfehlen würde ich es nicht unbedingt, weil ich einfach auf die Synthese zwischen Wasser und Gelreiniger stehe und nur so 100% sicher bin, dass mein Gesicht vollkommen sauber ist, aber THE BODY SHOP sagt, dass es locker möglich wäre.
Ich habe die Butter von der ersten Sekunde an extrem geliebt. Sie ist extrem schonend zur Haut, enthält keine Tenside, enthält super milde und natürliche Inhaltsstoffe, die Kamille sogar aus FAIRTRADE-Anbau und ist extrem angenehm zum Gesicht. Die Haut fühlt sich unbeschreiblich gut an und das Make Up ist bis auf den letzten Krümel entfernt.
Unverbindliche Preisempfehlung
14,00€
Inhaltsstoffe nach INCI-Deklaration / Zutaten
Quelle: Codecheck.info
Ethylhexyl Palmitate, Synthetic Wax, PEG-20 Glyceryl Triisostearate, Olea Europaea Fruit Oil/Olea Europaea Fruit Oil, Butyrospermum Parkii Butter, Caprylyl Glycol, Tocopherol, Parfum/Fragrance, Aqua/Water, Linalool, Limonene, Helianthus Annuus Seed Oil, Anthemis Nobilis Flower Extract, Citric Acid.
Nicht empfohlene Inhaltsstoffe
Quelle: Codecheck.info
PEG-20 Glyceryl Triisostearate (Emulgator; Schwächt die Barrierefunktion der Haut). Möglicherweise Palmöl: Ethylhexyl Palmitate, Caprylyl Glycol.
Angaben zu Palmölen: Quelle GREENPEACE. Angaben zu Mikroplastik, Hormonell wirksamen Inhaltsstoffen und Nanopartikeln: Quelle BUND. Die Angaben in Klammern () oder gekennzeichnet durch * sind Quelle Codecheck.info. Hier findest Du weitere Informationen dazu.
Geeignet für
Jeder Hauttyp.
Besondere Hinweise
Enthält Inhaltsstoff(e) aus FAIRTRADE Community-Anbau.
War dieser Beitrag hilfreich?