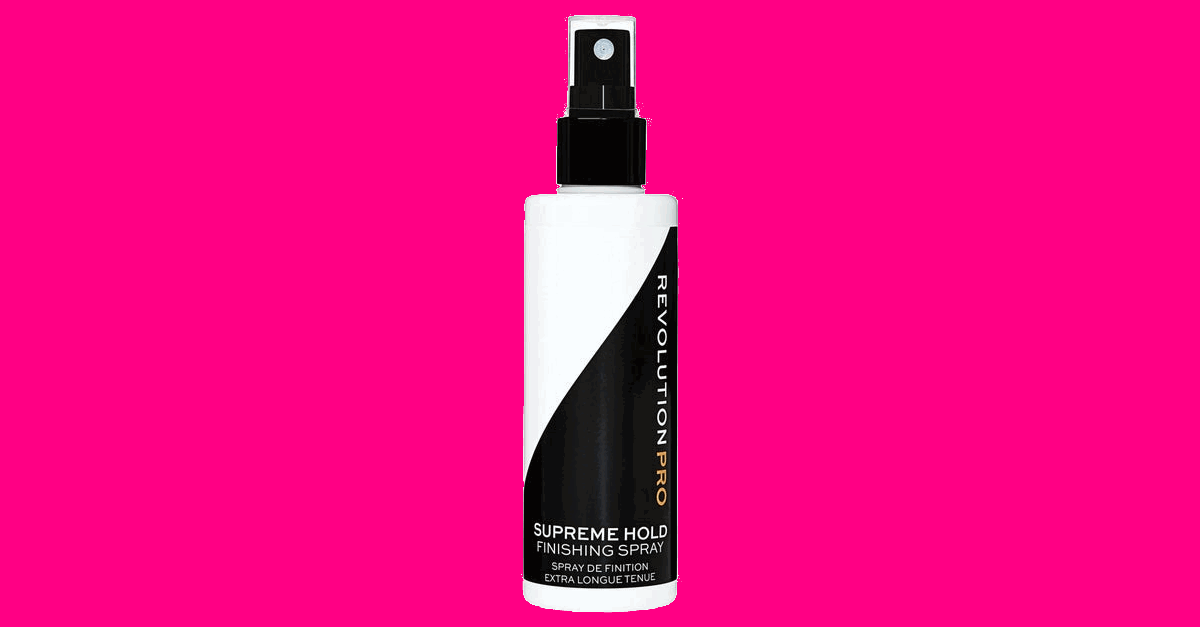 Bereits vor einiger Zeit hatte ich bei PinkPanda bestellt und ein Produkt von Revolution Pro, dass ich schon die ganze Zeit ausprobieren wollte, war das Supreme Hold Finish Spray. Revolution hat ja wirklich viele, viele Fixiersprays mit den unterschiedlichsten Formeln, aber laut den Bewertungen ist das hier eines der am besten wirkenden, weshalb ich es unbedingt ausprobieren wollte.
Die Formel enthält verschiedene pflanzliche Extrakte, Retinol, Pathenol, Aloe Vera-Saft, Alkohol, mattierende Wirkstoffe und natürliche Säuren. Es hat einen leicht alkoholischen Geruch und enthält keine beigesetzten Duftstoffe.
Das Spray ist relativ fein mit einem breiten Nebel, sodass ein paar Pumpstöße genügen, um das gesamten Gesicht, Hals und Dekolleté damit zu bedecken. Es hinterlässt auch keine großen Tropfen, selbst bei mehrmaligem Sprühstoß, sodass die Haut auch nie zu feucht wird.
Mir gefiel das Spray auf Anhieb wahnsinnig gut und gemessen am Preis-Leistungs-Verhältnis ist es bislang das beste, dass ich bis hierhin ausprobiert habe, zumindest in der Preisklasse. Es wirkt festigend und fixierend auf das Makeup, trocknet es oberflächlich aus und sorgt für ein extrem mattes Finish, ohne Pigmente herunter zu tönen, z.B. den Glanz von Highlightern zu entfernen.
Gleichzeitig ist es aber sehr sanft zur Haut. Ich habe nie das Gefühl gehabt, als wäre meine Haut trocken oder feuchtigkeitsarm, sondern die Haut fühlte sich stets gesund und frisch an. Es wurde nur das oberflächliche Makeup "attackiert", während alles darunter so blieb, wie es war.
Auch die Wirkung ist absolut tadellos. Das Makeup hält wirklich sichtbar länger, sieht länger aus, wie frisch aufgetragen und vor allem bricht es selbst an sensiblen Stellen, wie Lachfalten, nicht so schnell ein, wie ohne die Anwendung des Sprays.
Aber man muss schon etwas vorsichtig sein. Ich trage wirklich immens dicke Schichten an Foundation, Concealer, Puder und Co. Das es bei mir nicht bis zur Haut herunter wirkte (was wünschenswert war), war also nicht sonderlich unerwartet.
Ich gehe aber schon davon aus, dass sehr trockene Haut oder aber sehr leichte Tageslooks etc. immens ausgetrocknet werden können. Es ist schon einiges an Alkohol und Mattierern enthalten, weshalb es für ölige Haut, wie ich sie habe, perfekt geeignet ist, aber für trockene(re) Hauttypen absolut ungeeignet.
Inhaltsstoffe
Aqua, Alcohol Denat., Propylene Glycol, Amp-Acrylates/Allyl Methacrylate Copolymer, Benzyl Alcohol, Dehydroacetic Acid, PEG-40 Hydrogenated Castor Oil, Tocopheryl Acetate, Aesculus Hippocastanum Seed Extract, Aloe Barbadensis Leaf Juice, Retinyl Palmitate, Helianthus Annuus Seed Oil, Panthenol, Sorbitol, Linseed Acid, Sodium Benzoate, Tocopherol
PeTA Cruelty Free and Vegan
Wichtig: Die Inhaltsstoffe entsprechen den Angaben auf dem vorliegenden Testprodukt. Inhaltsstoffe auf der Produktverpackung sind ausschlaggebend. Bitte beachte auch unsere Allgemeinen Hinweise. Du findest hilfreiche Informationen rund um die Inhaltsstoffe in unserem INCI Glossar.
Empfehlungen; Haut- und Haartypen
Alle Hauttypen.
Wichtige Merkmale und Hinweise
PeTA Cruelty Free and Vegan
Produkttransparenz
Inhalt: 100ml
Hergestellt in: Großbritannien
Hersteller: Revolution Beauty
Dieses Produkt wurde gesponsert: Nein, wir haben dieses Produkt selbst gekauft.
War dieser Beitrag hilfreich?